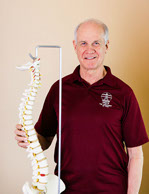 Rich uses The Treatment of Pain™ known as Onsen Muscle Therapy™,
Onsen Techniques®, Onsen Therapy™ or just plain Onsen® developed by Rich Phaigh, CMT, DMT, COTTIE the author of Athletic Massage for world Class Athletes and advanced chronic pain.
He will assess your condition to identify the structural and functional deviations in your body
1. Pelvic and Sacral deviations.
2. Spinal (Lumbar, thoracic and cervical
misalignment.
3. Lower back pain, shoulder/neck pain from
imbalances.
Rich will basically "release the tightness and strengthen the weakness".
He will use gentle pain free program.
Rich Priest has toured with Rich Phaigh, the Developer, since 1998, including his final Retirement Onsen® Course and Cruise January 22, 2001 in the Bahamas.
Rich Priest has also taught the Onsen Techniques® Internationally and has been voted one of the best Instructors by all the students attending.
Qualifications
• Assistant Director of Onsen Internatonal® Worldwide
• Dean of Onsen Internatonal(R) - USA
• Lead Instructor, Examinor for COTT™/COTTI™
Program Worldwide
• Certified Onsen Techniques Therapist Instructor ™
NCBTMB certified
• Instructor of Massage Therapy
• Certified Onsen Techniques Therapist™
• Diploma of Massage Therapy, Idaho, USA
• Licensed Massage Therapist
• Bachelor of Science, Brigham Young University